Examinations
Guidelines for Students
In addition to the below information, there is a specific page dedicated to the exams happening in 2023 CLICK HERE to view
Important information for students taking examinations
Any deadlines, news or dates can be found on Teams, via the Weekly Bulletin, from tutors, and from the Exams Officers.
Exam Entries:
Your teachers will make all your initial exam entries.
If you wish to resit any units, this will be up to you to organize.  Dates and times for applying for resits will be advertised in the Weekly Bulletin or on Teams, where you can also find the necessary form.
You will receive from your Personal Tutor a copy of your Statement of Entry.  It is very important to check all the information carefully and to ensure details are correct.  In particular, the spelling of names and date-of-birth. Bring any issues to the Exams Officer.
Any queries should be taken to the Exams Officers.
At a later date, the Exams Timetable will become available on Teams.
Where do examinations take place?
Exams take place in a variety of locations in the College.  The main location is the Sports Hall.  Specialist exams take place in the languages department, music and music technology rooms, art & design rooms & computing rooms.  The LRC is also used when large numbers of students are sitting exams.
The timetable on Teams will list the date, time, location and duration of your exams.  Remember if you are doing multiple exams in one session, to add the times together. You will also find the seating plans for exams on Teams.
Assembling for the examinations
Copies of the seating plan will be posted under Examination in Teams.  Each desk is marked with a row and number.  Your candidate number is the JCQ number.
Exams start at 9.00am and 1.30am.  Aim to arrive at least 30 minutes before the start of the exam.
We will not delay the start of an exam for late arrivals.
There is no secure storage available for bags/backpacks etc – Bags are not allowed in the examination room, so you MUST make arrangements for them. We do offer a bag drop facility during the main summer examination time. We recommend that students leave all valuables at home on the day of their exams or use the available lockers. If students leave their valuable outside of the exam room they do so at their own risk.
Late arrival and absences
Once an exam has started, late entry may be permitted (within 30 minutes of the official start time), but this has to be reported to the exam board, who may refuse to accept your work.
If you are late – enter the exam room quietly, and do not disturb other candidates.
If you arrive more than 30 minutes late, it is at the Exam Officer's discretion if you are allowed to sit the exam.
If you decide to withdraw from an exam at any stage, you must inform the exams officer.  You may have to pay the cost of the exam entry.
If you are unwell
If you are too ill to attend an exam, telephone the College and leave a message.
If your illness is contagious, you will not be allowed to sit the exam.
It is essential that you obtain a doctor's certificate for any absences.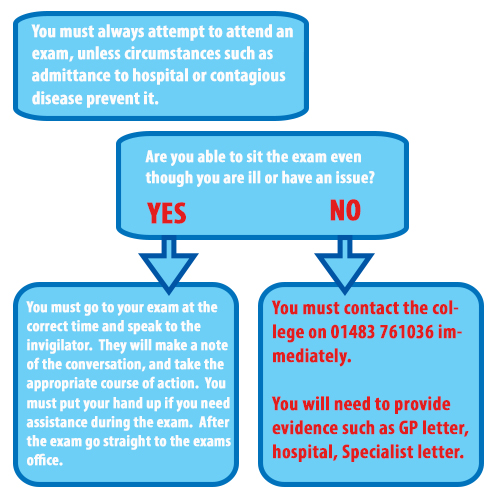 What should you bring to the exam?
Take into the exam room only the materials and equipment that are allowed, and these should be in a clear pencil case.
Your student ID card (or other photographic ID) for identification.  Your card needs to be visible on your desk during the exam.
Bring spare black pens, sharp pencils, eraser and rulers; coloured pencils or inks may be used only for diagrams, maps, charts, etc.  When required, bring drawing instruments and calculators, protractor and compass. No ink gel pens or correction fluid.
What shouldn't you bring?
Mobile phones, MP3 players, iPods, Headphones, Watches or any other communication/storage devices – are not allowed in the examination room at all.
Calculator cases, bags.
Correction fluid (Tippex) or similar. & No Ink Gel Pens.
Unauthorised notes of formulae in any form.
Hats (this includes hoodies too).
You are not allowed to share or borrow equipment from others during the exam.
You must not use a dictionary or computer spell checker unless you are told that you may do so.
Please note that the College cannot be held responsible for bags or valuables that are left outside the examination room.  We recommend you do not bring valuable items – phones, watches and iPods etc. – on days when you are sitting an exam.
All students should familiarise themselves with the following Joint Council for Qualifications (JCQ) regulations:
Essential JCQ reading:
Information for candidates – written exams CLICK HERE 
Information for candidates – Preparing to sit your exams CLICK HERE 
Information for candidates – Social Media CLICK HERE 
Other JCQ reading:
Information for candidates – Privacy Notice CLICK HERE 
Information for candidates – On Screen exams CLICK HERE