Student Union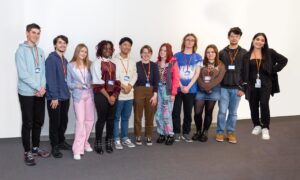 Welcome to Woking College
The Student Union (SU) is run by students, elected by their peers, to represent their student voice. The role of the SU is to serve as a channel of communication between the students and senior management, to discuss student feedback, ideas, or issues. The SU are also essential in creating a positive and welcoming environment for the student body.
Each member of the SU has a different role, ranging from President and Vice-President to EDI, Environmental and Charities Officers, amongst several others. They are responsible for holding EDI meetings with each department's EDI student representative, as well as organising charity, awareness campaigns and social events, such as Fresher's and Leaver's events, Clothes Swaps, Coats for Christmas collections and local food bank donations.
The SU's term in office runs from Easter to Easter, with Year 12 students applying for roles in the Spring term. Throughout the year, students not in the SU have the opportunity of working as SU Associates, attending meetings alongside the SU and getting a feel for the role. The SU are present at enrolment to engage and encourage new students to take part and welcome them into the college community. Many of these students go on to then become a member of the SU.
Members of the Student Union often attend local schools with the College Principal to deliver assemblies to Year 10 and 11 students. In addition to assisting at all college events, such as Open Evenings, enrolment and taster days to support the college and show their presence to prospective students.