Woking College Opens the first of two £3m teaching blocks.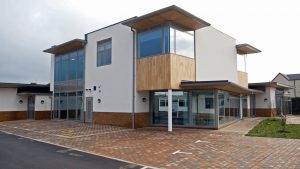 The Mayor of Woking Cllr Saj Hussain, has officially opened the first of two new teaching blocks at Woking College.
The teaching block opened today has eight new classrooms and a large study space. The design of the new building, which has been constructed over two levels to fit in with the sightlines of local residents, pays close attention to environmental impact. The insulation, ventilation and CO2 levels will all better present environmental standards, and the building will incorporate solar shading and hi-tech glass and is built to the latest environmental standards including additional solar panels on the roof adding to the already large array already in place at the college. The College worked with a Woking-based building company MCS and all very much went to plan.
The new teaching block is to be the base for the College's Excellence Programme, which helps all students with their applications to the most competitive universities and apprenticeships, and will be a mentoring space for students studying the additional Extended Project Qualification valued by the top universities and also the new home for the Behavioral and Social Sciences Departments comprising of Psychology, Sociology, Criminology, Health and Social Care.
Due to the success and popularity of the College, further boosted this November with the Award of a full set of Outstanding grades from Ofsted, the College has reached its capacity. Nevertheless, it is not the intention of the College to expand its intake of students but rather to provide flexible facilities that meet the needs and expectations of sixth form students.
The Principal stated that: "As an Outstanding College we are delighted that this new facility will be an inspiring space for students and teachers, spacious and modern and with the latest ventilation methods that will provide classrooms that are warm in the winter, cool in the summer but at the same time highly sustainable and efficient."
The Principal added, "We want our students to be successful within a community and all of us want a space to work in that helps us to feel valued. This project, together with the complete redevelopment of the neighbouring Old Woking Community Centre, another £3m project due to be completed in the summer, providing our performing arts department with brilliant new spaces, Woking College will have extensive modern new facilities for our September 2023 intake of students and the local community."
For further information or to apply to Woking College for September 2023 go to www.woking.ac.uk